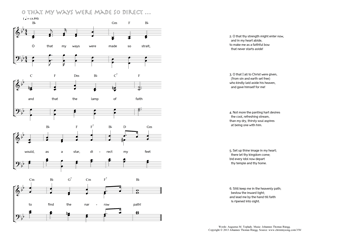 Christ My Song - 358
O that my ways were made so strait - O that my ways were made so direct … (Augustus M. Toplady/Johannes Thomas Rüegg)
O that my ways were made so direct …
1. O that my ways were made so strait,
and that the lamp of faith
would, as a star, direct my feet
to find the narrow path! (PDF - Midi)
2. O that thy strength might enter now,
and in my heart abide,
to make me as a faithful bow
that never starts aside!
3. O that I all to Christ were given,
(from sin and earth set free)
who kindly laid aside his heaven,
and gave himself for me.
4. Not more the panting hart desires
the cool, refreshing stream,
than my dry, thirsty soul aspires
at being one with him.
5. Set up thine image in my heart;
there let thy kingdom come;
bid every idol now depart
thy temple and thy home.
6. Still keep me in the heavenly path;
bestow the inward light;
and lead me by the hand till faith
is ripened into sight.
Augustus M. Toplady, Hymns and Sacred Poems, 1860, 16.