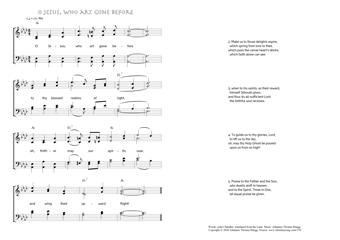 Christ My Song - 376
O Jesus, who art gone before
(John Chandler/Johannes Thomas Rüegg)
O Jesus, who art gone before.
1. O Jesus, who art gone before
to thy blessed realms of light,
oh, thither may our spirits soar,
and wing their upward flight! PDF - Midi
2. Make us to those delights aspire,
which spring from love to thee,
which pass the carnal heart's desire,
which faith alone can see:
3. when to his saints, as their reward,
himself Jehovah gives,
and thus its all-sufficient Lord
the faithful soul receives.
4. To guide us to thy glories, Lord,
to lift us to the sky,
oh, may thy Holy Ghost be poured
upon us from on high!
5. Praise to the Father and the Son,
who dwells aloft in heaven:
and to the Spirit, Three in One,
let equal praise be given.
John Chandler, in: Philip Schaff, Christ in Song, 1870, 244.
Translated from the Latin O Christe, qui noster poli.