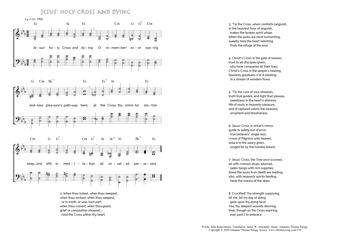 Christ My Song - 378
Jesus' holy Cross and dying (John Bonaventura/
James W. Alexander/Johannes Thomas Rüegg)
Jesus' holy Cross and dying.
1. Jesus' holy Cross and dying
O remember! ever eyeing
endless pleasure's pathway here;
at the Cross thy mindful station
keep, and still in meditation
all unsated persevere. PDF - Midi
2. When thou toilest, when thou sleepest,
when thou smilest, when thou weepest,
or in mirth, or woe, hast part;
when thou comest, when thou goest,
grief or consolation showest, –
hold the Cross within thy heart.
3. 'Tis the Cross, when comforts languish,
in the heaviest hour of anguish,
makes the broken spirit whole.
When the pains are most tormenting,
sweetly here the heart relenting
finds the refuge of the soul.
4. Christ's Cross is the gate of heaven,
trust to all disciples given,
who have conquered all their foes;
Christ's Cross is the people's healing,
heavenly goodness o'er it stealing
in a stream of wonders flows.
5. 'Tis the cure of soul-diseases,
truth that guides, and light that pleases,
sweetness in the heart's distress;
life of souls in heavenly pleasure,
and of raptured saints the treasure,
ornament and blissfulness.
6. Jesus' Cross is virtue's mirror,
guide to safety out of error,
true believers' single rest;
crown of Pilgrims unto heaven,
solace to the weary given,
longed for by the humble breast.
7. Jesus' Cross, the Tree once scorned,
all with crimson drops adorned,
laden hangs with rich supplies;
these the souls from death are leading,
who, with heavenly spirits feeding,
taste the manna of the skies.
8. Crucified! Thy strength supplying,
let me, till my day of dying,
gaze upon thy dying face!
Yea, thy deepest wounds desiring,
thee, though on the Cross expiring,
ever pant I to embrace.
James W. Alexander, in: Philip Schaff: Christ in Song, 1870, 132-133,
after the Latin Recordare sanctæ crucis of John Bonaventura.