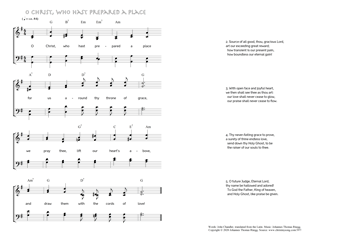 Christ My Song - 397
O Christ, who hast prepared a place
(John Chandler/Johannes Thomas Rüegg)
O Christ, who hast prepared a place.
1. O Christ, who hast prepared a place
for us around thy throne of grace,
we pray thee, lift our heart's above,
and draw them with the cords of love! PDF - Midi
2. Source of all good, thou, gracious Lord,
art our exceeding great reward;
how transient is our present pain,
how boundless our eternal gain!
3. With open face and joyful heart,
we then shall see thee as thou art:
our love shall never cease to glow,
our praise shall never cease to flow.
4. Thy never-failing grace to prove,
a surety of thine endless love,
send down thy Holy Ghost, to be
the raiser of our souls to thee.
5. O future Judge, Eternal Lord,
thy name be hallowed and adored!
To God the Father, King of heaven,
and Holy Ghost, like praise be given.
John Chandler, in: Philip Schaff, Christ in Song, 1870, 243.
Translated from the Latin Nobis Olympo redditus.