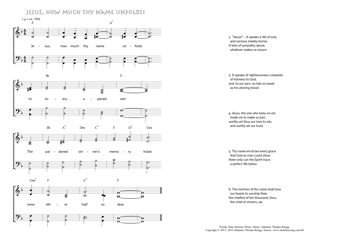 Christ My Song - 44
Jesus, how much thy name unfolds
(Mary Bowley Peters/Johannes Thomas Rüegg)
Jesus, how much thy name unfolds!
1. Jesus, how much thy name unfolds
to every opened ear!
The pardoned sinner's memory holds
none other half so dear. PDF - Midi
2. "Jesus!" – it speaks a life of love,
and sorrows meekly borne;
it tells of sympathy above,
whatever makes us mourn.
3. It speaks of righteousness complete,
of holiness to God;
and, to our ears, no tale so sweet
as his atoning blood.
4. Jesus, the one who knew no sin,
made sin to make us just,
worthy art thou our love to win,
and worthy all our trust.
5. Thy name encircles every grace
that God as man could show;
there only can the Spirit trace
a perfect life below.
6. The mention of thy name shall bow
our hearts to worship thee:
the chiefest of ten thousand, thou;
the chief of sinners, we.
Mary Bowley Peters, in: Philip Schaff: Christ in Song, 1870, 337-338.