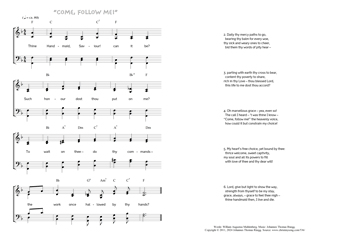 Christ My Song - 536
Thine Handmaid, Saviour! can it be? - "Come, follow me!" (William Augustus Muhlenberg/Johannes Thomas Rüegg)
"Come, follow me!"
Written for the reception of a "sister" at St. Luke's Hospital.
1. Thine Handmaid, Saviour! can it be?
Such honour dost thou put on me?
To wait on thee – do thy commands –
the work once hallowed by thy hands? (PDF - Midi)
2. Daily thy mercy paths to go,
bearing thy balm for every woe,
thy sick and weary ones to cheer,
bid them thy words of pity hear –
3. parting with earth thy cross to bear,
content thy poverty to share,
rich in thy Love – thou blessed Lord,
this life to me dost thou accord?
4. Oh marvellous grace – yea, even so!
The call I heard – 't was thine I know –
"Come, follow me!" the heavenly voice,
how could it but constrain my choice!
5. My heart's free choice, yet bound by thee:
thrice welcome, sweet captivity,
my soul and all its powers to fill
with love of thee and thy dear will!
6. Lord, give but light to show the way,
strength from thyself to be my stay,
grace, always, – grace to feel thee nigh –
thine handmaid then, I live and die.
William Augustus Muhlenberg, 1859.
From: I would not live alway, 1860, 56-57. See also: Schaff, Christ in Song, 1870, 115.