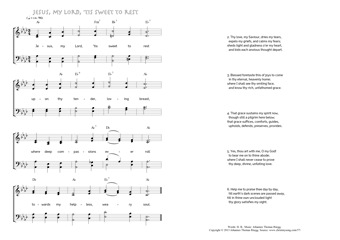 Christ My Song - 57
Jesus, my Lord, 'tis sweet to rest
(H. B./Johannes Thomas Rüegg)
Jesus, my Lord, 'tis sweet to rest.
1. Jesus, my Lord, 'tis sweet to rest
upon thy tender, loving breast,
where deep compassions ever roll
towards my helpless, weary soul. PDF - Midi
2. Thy love, my Saviour, dries my tears,
expels my griefs, and calms my fears;
sheds light and gladness o'er my heart,
and bids each anxious thought depart.
3. Blessed foretaste this of joys to come
in thy eternal, heavenly home;
where I shall see thy smiling face,
and know thy rich, unfathomed grace.
4. That grace sustains my spirit now,
though still a pilgrim here below;
that grace suffices, comforts, guides,
upholds, defends, preserves, provides.
5. Yes, thou art with me, O my God!
to bear me on to thine abode;
where I shall never cease to prove
thy deep, divine, unfailing love.
6. Help me to praise thee day by day,
till earth's dark scenes are passed away,
till in thine own unclouded light
thy glory satisfies my sight.
H. B., in: Philip Schaff: Christ in Song, 1870, 413-414.