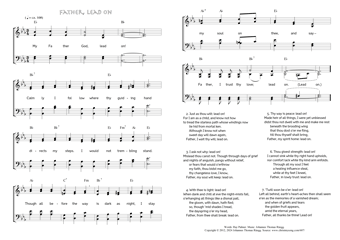 Christ My Song - 607
My Father God, lead on! - Father, lead on
(Ray Palmer/Johannes Thomas Rüegg)
Father, lead on.
"O my Father, if this cup may not pass away from me, except I drink it, thy will be done." (Matthew 26,42)
1. My Father God, lead on!
Calmly I follow where thy guiding hand
directs my steps. I would not trembling stand.
Though all before the way
is dark as night, I stay
my soul on thee, and say –
Father, I trust thy love; lead on. (PDF - Midi)
2. Just as thou wilt: lead on!
For I am as a child, and know not how
to tread the starless path whose windings now
lie hid from mortal ken.
Although I know not when
sweet day will dawn again,
Father, I wait thy will; lead on.
3. I ask not why: lead on!
Mislead thou canst not. Though through days of grief
and nights of anguish, pangs without relief,
or fears that would o'erthrow
my faith, thou bidst me go,
thy changeless love, I know,
Father, my soul will keep: lead on.
4. With thee is light: lead on!
When dank and chill at eve the night-mists fall,
o'erhanging all things like a dismal pall,
the gloom, with dawn, hath fled;
so, though 'mid shades I tread,
the dayspring o'er my head,
Father, from thee shall break: lead on.
5. Thy way is peace: lead on!
Made heir of all things, I were yet unblessed
didst thou not dwell with me and make me rest
beneath the brooding wing
that thou dost o'er me fling,
till thou thyself shalt bring,
Father, my spirit home: lead on.
6. Thou givest strength: lead on!
I cannot sink while thy right hand upholds,
nor comfort lack while thy kind arm enfolds.
Through all my soul I feel
a healing influence steal,
while at thy feet I kneel,
Father, in lowly trust: lead on.
7. 'Twill soon be o'er: lead on!
Left all behind, earth's heart-aches then shall seem
e'en as the memories of a vanished dream;
and when of griefs and tears
the golden fruit appears,
amid the eternal years,
Father, all thanks be thine! Lead on!
Ray Palmer, in: The Poetical Works of Ray Palmer, 1876, 68-70.