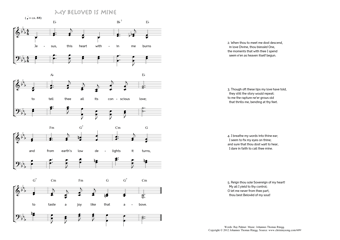 Christ My Song - 609
Jesus, this heart within me burns - My Beloved is mine
(Ray Palmer/Johannes Thomas Rüegg)
My Beloved is mine.
"I am my Beloved's and my Beloved is mine." (Song of Solomon 8,3)
1. Jesus, this heart within me burns
to tell thee all its conscious love;
and from earth's low delights it turns,
to taste a joy like that above. (PDF - Midi)
2. When thou to meet me dost descend,
in love Divine, thou blessèd One,
the moments that with thee I spend
seem e'en as heaven itself begun.
3. Though oft these lips my love have told,
they still the story would repeat;
to me the rapture ne'er grows old
that thrills me, bending at thy feet.
4. I breathe my words into thine ear;
I seem to fix my eyes on thine;
and sure that thou dost wait to hear,
I dare in faith to call thee mine.
5. Reign thou sole Sovereign of my heart!
My all I yield to thy control;
O let me never from thee part,
thou best Belovèd of my soul!
Ray Palmer, in: The Poetical Works of Ray Palmer, 1876, 70-71.