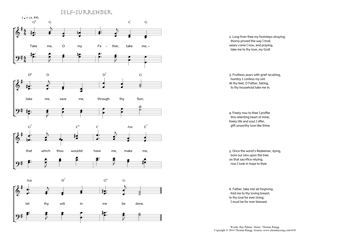 Christ My Song - 610
Take me, O my Father, take me - Self-Surrender
(Ray Palmer/Johannes Thomas Rüegg)
Self-Surrender.
"I will arise and go to my Father." (Luke 15,18)
1. Take me, O my Father, take me, –
take me, save me, through thy Son;
that which thou wouldst have me, make me,
let thy will in me be done. PDF - Midi
2. Long from thee my footsteps straying,
thorny proved the way I trod;
weary come I now, and praying,
take me to thy love, my God!
3. Fruitless years with grief recalling,
humbly I confess my sin!
At thy feet, O Father, falling,
to thy household take me in.
4. Freely now to thee I proffer
this relenting heart of mine;
freely life and soul I offer,
gift unworthy love like thine.
5. Once the world's Redeemer, dying,
bore our sins upon the tree;
on that sacrifice relying,
now I look in hope to thee.
6. Father, take me! all forgiving,
fold me to thy loving breast;
in thy love for ever living,
I must be for ever blessed.
1864.
Ray Palmer, The Poetical Works of Ray Palmer, 1876, 45.