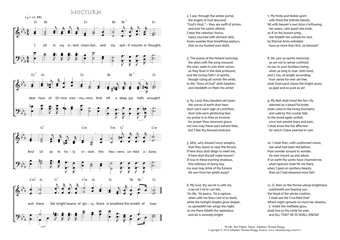 Christ My Song - 611
I sit in my silent chamber - Nocturn
(Ray Palmer/Johannes Thomas Rüegg)
Nocturn.
"Enter into thy closet, and . . . shut thy door." (Matthew 6,6)
1. I sit in my silent chamber,
and my spirit mounts in thought;
dear hour of Divine communion,
that oft a deep joy hath wrought!
And lo! as in holy vision,
the heavens unfold above,
and there fall bright beams of glory,
there is breathed the breath of love. PDF - Midi
2. I see, through the amber portal,
the angels of God descend;
"God's Host," – they are swift of pinion,
and ever his saints attend;
I hear the celestial chorus,
harps touched with divinest skill,
tones sweeter than breathing zephyrs,
that on my hushed soul distil.
3. The praise of the Holiest hymning,
the skies with the song resound;
the stars seem to join their voices,
as they float in the dark profound;
and the loving Fath'r of spirits,
though ruling all worlds the while,
to the "Sons of God" doth hearken,
and sheddeth on them his smile!
4. Ay, Lord, thou bendest yet lower;
the voices of earth dost hear;
dost catch each sigh of contrition,
dost note each glistening tear;
my praise is to thee as incense,
for prayer thou returnest grace;
not now may these eyes behold thee,
but I feel thy blessed embrace.
5. Why, why should I envy seraphs,
that they stand so near the throne,
if here thou dost deign to meet me,
if here dost thyself make known?
If now in these evening shadows,
this stillness of dying day,
my soul may drink of thy fulness
till won from her griefs away?
6. My God, thy secret is with me,
a secret I ne'er can tell;
'tis life, 'tis peace, 'tis a rapture,
when with me thou com'st to dwell;
while the twilight shades grow deeper,
as spreadeth her wings the night,
on me there falleth thy splendour,
and all is serenely bright.
7. My finite and feeble spirit
with thine the Infinite blends,
till with heaven's own bliss o'erflowing,
her weary, vain quest she ends;
as if on thy bosom lying,
she findeth her wished-for rest,
by Eternal Arms enfolded:
have ye more than this, ye blessed?
8. Ah, yes! ye spirits immortal,
ye are not to sense confined;
no law in your faultless being,
when ye long to soar, doth bind;
and I, too, at length ascending,
from sense for ever set free,
shall God-ward cleave the bright azure,
as glad and as pure as ye!
9. My feet shall tread the fair city
adorned as a beaut'ful bride;
shall come to the living fountains,
and walk by the crystal tide;
to the loved again united,
once lost amidst tears and pain,
I shall know the full affection
for which I have yearned in vain.
10. I shall then, with undimmed vision,
see what had been hid before;
from wonder onward to wonder,
for ever mount up and adore;
if on earth thy works have charmed me,
what raptures shall fill me there,
when I gaze on spotless beauty,
than all I had dreamed more fair!
11. O, then on the throne whose brightness
outshineth yon blazing sun,
the Head of the whole creation,
I shall see the Crucified One!
Where night spreads no more her shadow
I, amidst the ineffable glow,
shall live on his smile for ever,
and all that he is shall know!
1867.
Ray Palmer, The Poetical Works of Ray Palmer, 1876, 96-99.
(The following lines were too long and had to be adapted:
3,5: "Father" shortened to "Fath'r";
9,2: "beautiful" shortened to "beaut'ful".)