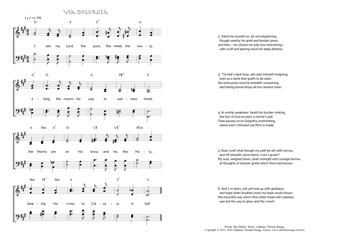 Christ My Song - 616
I see my Lord, the pure, the meek, the lowly - Via Dolorosa
(Ray Palmer/Johannes Thomas Rüegg)
Via Dolorosa.
"And he bearing his cross went forth." (John 19, 17)
1. I see my Lord, the pure, the meek, the lowly,
along the mournful way in sadness tread;
the thorns are on his brow, and he, the Holy,
bearing his cross, to Calvary is led! (PDF - Midi)
2. Silent he moveth on, all uncomplaining,
though wearily his grief and burden press;
and foes – nor shame nor pity now restraining –
with scoff and jeering mock his deep distress.
3. 'Tis hell's dark hour; yet calm himself resigning,
even as a lamb that goeth to be slain,
the wine-press lone he treadeth unrepining,
and falling blood-drops all his raiment stain.
4. In mortal weakness 'neath his burden sinking,
the Son of God accepts a mortal's aid!
Then passes on to Golgotha unshrinking,
where love's Divinest sacrifice is made.
5. Dear Lord! what though my path be set with sorrow,
and oft beneath some heavy cross I groan?
My soul, weighed down, shall strength and courage borrow,
at thoughts of sharper griefs which thou hast known.
6. And I, in tears, will yet look up with gladness,
and hope when troubles most my hope would drown;
the mournful way which thou didst tread with sadness
was but thy way to glory and thy crown!
Ray Palmer, in: The Poetical Works of Ray Palmer, 1876, 86-87.