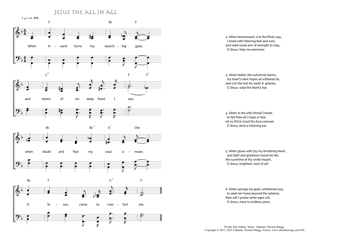 Christ My Song - 620
When inward turns my searching gaze - Jesus the all in all (Ray Palmer/Johannes Thomas Rüegg)
Jesus the all in all.
" Looking unto Jesus the author and finisher of our faith." (Hebrews 12,2)
1. When inward turns my searching gaze,
and stains of sin deep fixed I see,
when doubt and fear my soul amaze,
O Jesus, come to comfort me. (PDF - Midi)
2. When heavenward, o'er the flinty way,
I tread with faltering feet and sore,
and need some arm of strength to stay,
O Jesus, wipe the tearful eye.
3. When faded, like autumnal leaves,
my heart's best hopes all withered lie,
and o'er the lost for earth it grieves,
O Jesus, wipe the fearful eye.
4. When in the still retreat I kneel,
to tell thee all I hope or fear,
let no thick cloud thy face conceal:
O Jesus, lend a listening ear.
5. When glows with joy my throbbing heart,
and light and gladness round me fall,
the sunshine of thy smile impart,
O Jesus, brightest, best of all!
6. When springs my glad, unfettered soul,
to seek her home beyond the spheres,
thee will I praise while ages roll,
O Jesus, mine to endless years.
Ray Palmer, in: The Poetical Works of Ray Palmer, 1876, 63-64.