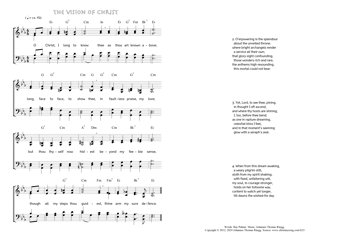 Christ My Song - 623
O Christ, I long to know thee - The vision of Christ
(Ray Palmer/Johannes Thomas Rüegg)
The vision of Christ.
"Now we see through a glass, darkly; but then face to face."
(1 Corinthians 13,12)
1. O Christ, I long to know thee
as thou art known above;
long, face to face, to show thee,
in faultless praise, my love;
but thou thyself now hidest
beyond my feeble sense,
though all my steps thou guidest,
thine arm my sure defence. (PDF - Midi)
2. O'erpowering is the splendour
about the unveiled throne;
where bright archangels render
a service all their own;
that glory sight confounding,
those wonders rich and rare,
the anthems high resounding,
this mortal could not bear.
3. Yet, Lord, to see thee, pining,
in thought I oft ascend,
and where thy hosts are shining,
I, too, before thee bend;
as one in rapture dreaming,
celestial bliss I feel,
and in that moment's seeming
glow with a seraph's zeal.
4. When from this dream awaking,
a weary pilgrim still,
sloth from my spirit shaking,
with fixed, unfaltering will,
my soul, in courage stronger,
holds on her toilsome way,
content to watch yet longer,
till dawns the wished-for day.
Ray Palmer, in: The Poetical Works of Ray Palmer, 1876, 15.