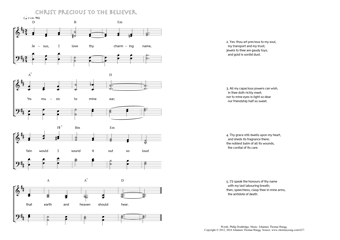 Christ My Song - 627
Jesus, I love thy charming name - Christ precious to the believer (Philip Doddridge/Johannes Thomas Rüegg)
Christ precious to the believer.
(1 Peter 2,7)
1. Jesus, I love thy charming name,
'tis music to mine ear;
fain would I sound it out so loud
that earth and heaven should hear. (PDF - Midi)
2. Yes: thou art precious to my soul,
my transport and my ttust;
jewels to thee are gaudy toys,
and gold is sordid dust.
3. All my capacious powers can wihs,
in thee doth richly meet;
nor to mine eyes is light so dear
nor friendship half so sweet.
4. Thy grace still dwells upon my heart,
and sheds its fragrance there;
the noblest balm of all its wounds,
the cordial of its care.
5. I'll speak the honours of thy name
with my last labouring breath;
then, speechless, clasp thee in mine arms,
the antidote of death.
Philip Doddridge, in: Schaff, Philip: Christ in Song, 1869, 617-618.