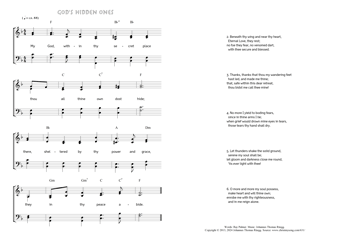 Christ My Song - 631
My God, within thy secret place - God's hidden ones
(Ray Palmer/Johannes Thomas Rüegg)
God's hidden ones.
"In the time of trouble he shall hide me in his pavilion."
(Psalm 27,5)
"He that dwelleth in the secret place of the Most High shall abide under the shadow of the Almighty." (Psalm 91,1)
1. My God, within thy secret place
thou all thine own dost hide;
there, sheltered by thy power and grace,
they in thy peace abide. (PDF - Midi)
2. Beneath thy wing and near thy heart,
Eternal Love, they rest;
no foe they fear, no venomed dart,
with thee secure and blessed.
3. Thanks, thanks that thou my wandering feet
hast led, and made me thine;
that, safe within this dear retreat,
thou bidst me call thee mine!
4. No more I yield to boding fears,
since in thine arms I lie;
when grief would drown mine eyes in tears,
those tears thy hand shall dry.
5. Let thunders shake the solid ground,
serene my soul shall be;
let gloom and darkness close me round,
'tis ever light with thee!
6. O more and more my soul possess,
make heart and will thine own;
enrobe me with thy righteousness,
and in me reign alone.
1874.
Ray Palmer, in: The Poetical Works of Ray Palmer, 1876, 52-53.