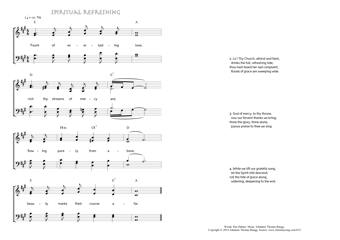 Christ My Song - 633
Fount of everlasting love - Spiritual refreshing
(Ray Palmer/Johannes Thomas Rüegg)
Spiritual refreshing.
"I will pour my Spirit upon thy seed, and my blessing upon thine offspring." (Isaiah 44,3)
1. Fount of everlasting love,
rich thy streams of mercy are;
flowing purely from above,
beauty marks their course afar. PDF - Midi
2. Lo ! Thy Church, athirst and faint,
drinks the full, refreshing tide;
thou hast heard her sad complaint,
floods of grace are sweeping wide.
3. God of mercy, to thy throne,
now our fervent thanks we bring;
thine the glory, thine alone,
joyous praise to thee we sing.
4. While we lift our grateful song,
let the Spirit still descend;
roll the tide of grace along,
widening, deepening to the end.
Ray Palmer, The Poetical Works of Ray Palmer, 1876, 65-66.