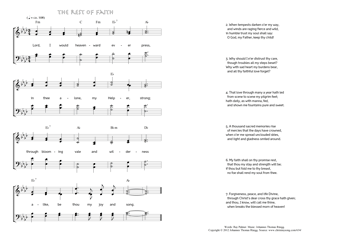 Christ My Song - 634
Lord, I would heavenward ever press - The rest of faith
(Ray Palmer/Johannes Thomas Rüegg)
The rest of faith.
"Happy is he that hath the God of Jacob for his help."
(Psalm 146,5)
1. Lord, I would heavenward ever press,
in thee alone, my Helper, strong;
through blooming vale and wilderness
alike, be thou my joy and song. (PDF - Midi)
2. When tempests darken o'er my way,
and winds are raging fierce and wild,
in humble trust my soul shall say:
O God, my Father, keep thy child!
3. Why should I e'er distrust thy care,
though troubles all my steps beset?
why with sad heart my burdens bear,
and all thy faithful love forget?
4. That love through many a year hath led
from scene to scene my pilgrim feet;
hath daily, as with manna, fed,
and shown me fountains pure and sweet.
5. A thousand sacred memories rise
of mercies that the days have crowned,
when o'er me spread unclouded skies,
and light and gladness smiled around.
6. My faith shall on thy promise rest,
that thou my stay and strength wilt be;
if thou but fold me to thy breast,
no foe shall rend my soul from thee.
7. Forgiveness, peace, and life Divine,
through Christ's dear cross thy grace hath given;
and thou, I know, wilt call me thine,
when breaks the blessed morn of heaven!
Ray Palmer, in: The Poetical Works of Ray Palmer, 1876, 83-84.