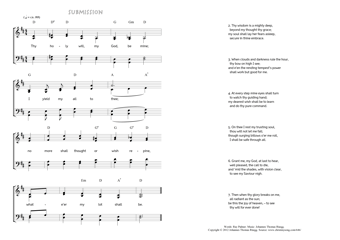 Christ My Song - 646
Thy holy will, my God, be mine - Submission
(Ray Palmer/Johannes Thomas Rüegg)
Submission.
"Thy will be done." (Matthew 25,42)
1. Thy holy will, my God, be mine;
I yield my all to thee;
no more shall thought or wish repine,
whate'er my lot shall be. (PDF - Midi)
2. Thy wisdom is a mighty deep,
beyond my thought thy grace;
my soul shall lay her fears asleep,
secure in thine embrace.
3. When clouds and darkness rule the hour,
thy bow on high I see;
and e'en the rending tempest's power
shall work but good for me.
4. At every step mine eyes shall turn
to watch thy guiding hand;
my dearest wish shall be to learn
and do thy pure command.
5. On thee I rest my trusting soul,
thou wilt not let me fall;
though surging billows o'er me roll,
I shall be safe through all.
6. Grant me, my God, at last to hear,
well pleased, the call to die,
and 'mid the shades, with vision clear,
to see my Saviour nigh.
7. Then when thy glory breaks on me,
all radiant as the sun;
be this the joy of heaven, – to see
thy will for ever done!
Ray Palmer, in: The Poetical Works of Ray Palmer, 1876, 13-14.