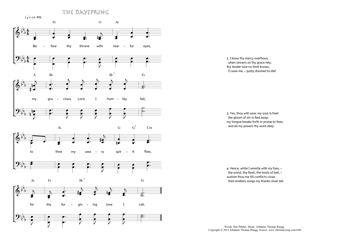 Christ My Song - 648
Before thy throne with tearful eyes - The Dayspring
(Ray Palmer/Johannes Thomas Rüegg)
The Dayspring.
"Through the tender mercy of our God; whereby the dayspring from on high hath visited us." (Luke 1,78)
1. Before thy throne with tearful eyes,
my gracious Lord, I humbly fall;
to thee my weary spirit flies,
for thy forgiving love I call. (PDF - Midi)
2. I know thy mercy overflows,
when sinners on thy grace rely;
thy tender love no limit knows;
O save me, – justly doomed to die!
3. Yes, thou wilt save; my soul is free!
the gloom of sin is fled away;
my tongue breaks forth in praise to thee,
and all my powers thy word obey.
4. Hence, while I wrestle with my foes, –
the world, the flesh, the hosts of hell, –
sustain thou me till conflicts close,
then endless songs my thanks shall tell.
Ray Palmer, in: The Poetical Works of Ray Palmer, 1876, 57.