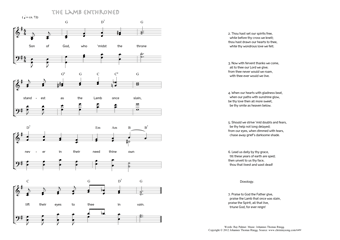 Christ My Song - 649
Son of God, who 'midst the throne - The Lamb enthroned
(Ray Palmer/Johannes Thomas Rüegg)
The Lamb enthroned.
"And lo, in the midst of the throne … stood a Lamb as it had been slain." (Revelation 5,6)
1. Son of God, who 'midst the throne
standest as the Lamb once slain,
never in their need thine own
lift their eyes to thee in vain. (PDF - Midi)
2. Thou hast set our spirits free,
while before thy cross we knelt;
thou hast drawn our hearts to thee,
while thy wondrous love we felt.
3. Now with fervent thanks we come,
all to thee our Lord we give;
from thee never would we roam,
with thee ever would we live.
4. When our hearts with gladness beat,
when our paths with sunshine glow,
be thy love then all more sweet,
be thy smile as heaven below.
5. Should we strive 'mid doubts and fears,
be thy help not long delayed;
from our eyes, when dimmed with tears,
chase away grief's darksome shade.
6. Lead us daily by thy grace,
till these years of earth are sped;
then unveil to us thy face,
thou that livest and wast dead!

Doxology.
7. Praise to God the Father give,
praise the Lamb that once was slain,
praise the Spirit, all that live,
triune God, for ever reign!
Ray Palmer, in: The Poetical Works of Ray Palmer, 1876, 80-81.