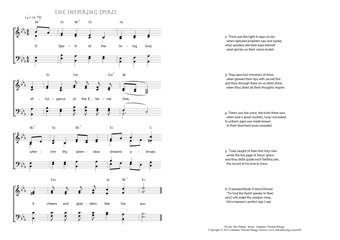 Christ My Song - 650
O Spirit of the living God - The inspiring Spirit
(Ray Palmer/Johannes Thomas Rüegg)
The inspiring Spirit.
"Holy men of God spake as they were moved by the Holy Ghost." (2 Peter 1,21)
1. O Spirit of the living God,
effulgence of the Eternal One,
where'er thy splendour streams abroad,
it cheers and gladdens like the sun. (PDF - Midi)
2. Thine was the light in days of old,
when raptured prophets saw and spoke;
what wonders did their eyes behold!
what glories on their vision broke!
3. They were but ministers of thine,
when glowed their lips with sacred fire:
and thou through them on us didst shine,
when thou didst all their thoughts inspire.
4. Theirs was the voice, the truth thine own,
when love's great mystery, long concealed,
to unborn ages was made known
in their illumined souls revealed.
5. 'Twas taught of thee that holy men
wrote the full page of Jesus' grace
and thou didst guide each faithful pen,
the record of his love to trace.
6. O blessed Book! O Word Divine!
'Tis God the Spirit speaks in thee;
and I will make thy wisdom mine,
till in heaven's perfect day I see.
Ray Palmer, in: The Poetical Works of Ray Palmer, 1876, 81-82.