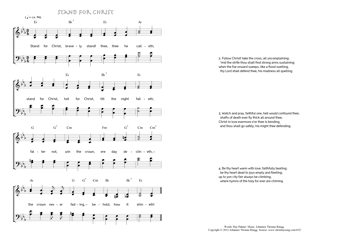 Christ My Song - 652
Stand for Christ (Ray Palmer/Johannes Thomas Rüegg)
Stand for Christ.
"Take unto you the whole armour of God, that ye may be able to withstand in the evil day, and having done all to stand." (Ephesians 4, 13)
1. Stand for Christ, bravely stand! thee, thee he calleth;
stand for Christ, toil for Christ, till the night falleth;
falter not, win the crown, ere day declineth, –
the crown never fading, – behold, how it shineth! (PDF - Midi)
2. Follow Christ! take the cross, all uncomplaining;
'mid the strife thou shalt find strong arms sustaining;
when the foe onward sweeps, like a flood swelling,
thy Lord shall defend thee, his madness all quelling.
3. Watch and pray, faithful one, hell would confound thee;
shafts of death ever fly thick all around thee;
Christ in love evermore o'er thee is bending,
and thou shalt go safely, his might thee defending.
4. Be thy heart warm with love, faithfully beating;
be thy heart dead to joys empty and fleeting;
up to yon city fair always be climbing,
where hymns of the holy for ever are chiming.
Ray Palmer, in: The Poetical Works of Ray Palmer, 1869, 40-41.