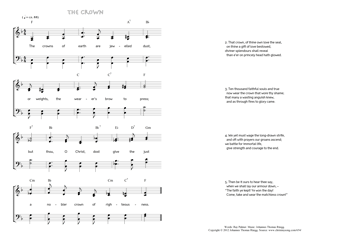 Christ My Song - 654
The crowns of earth are jewelled dust - The Crown
(Ray Palmer/Johannes Thomas Rüegg)
The crown.
"There is laid up for me a crown." (2 Timothy 4,8)
1. The crowns of earth are jewelled dust,
or weights, the wearer's brow to press;
but thou, O Christ, dost give the just
a nobler crown of righteousness. (PDF - Midi)
2. That crown, of thine own love the seal,
on thine a gift of love bestowed,
diviner splendours shall reveal
than e'er on princely head hath glowed.
3. Ten thousand faithful souls and true
now wear the crown that wore thy shame;
that many a wasting anguish knew,
and as through fires to glory came.
4. We yet must wage the long-drawn strife,
and oft with prayers our groans ascend;
we battle for immortal life,
give strength and courage to the end.
5. Then be it ours to hear thee say,
when we shall lay our armour down, –
"The faith ye kept! Ye won the day!
Come, take and wear the matchless crown!"
Ray Palmer, in: The Poetical Works of Ray Palmer, 1876, 35.