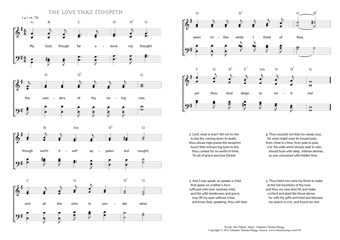 Christ My Song - 656
My God, though far above my thought - The love that stoopeth
(Ray Palmer/Johannes Thomas Rüegg)
The love that stoopeth.
"What is man, that thou art mindful of him?" (Psalm 8,4)
1. My God, though far above my thought
the wonders of thy being rise;
though earth itself appears but nought,
and all the orbs in yonder skies
seem trifles while I think of thee,
yet thou dost deign to visit me! (PDF - Midi)
2. Lord, what is man? Ah! not to him
is due thy coming down to dwell;
thou whose high praise the seraphim
touch their entrancing lyres to tell;
thou comest for no worth of mine,
'tis all of grace and love Divine!
3. And I may speak, as speaks a child
that gazes on a father's face
suffused with love, serenely mild,
and fair with tenderness and grace;
may lift my eyes without a fear,
and know that, speaking, thou wilt hear.
4. Thou wouldst not that my needy soul,
for what might ease its inward pain,
from clime to clime, from pole to pole,
o'er the wide world should seek in vain;
should burn with deep, intense desires,
as one consumed with hidden fires.
5. Thou bidst me come my thirst to slake
at the full fountains of thy love;
and thou my soul dost fill and make
content and glad like those above;
for with thy gifts enriched and blessed,
my search is o'er, and found my rest.
Ray Palmer, in: The Poetical Works of Ray Palmer, 1876, 12-13.