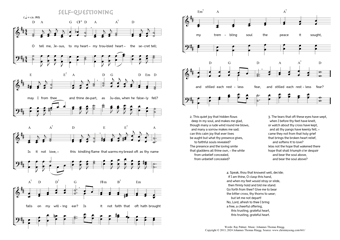 Christ My Song - 661
O tell me, Jesus, to my heart - Self-questioning
(Ray Palmer/Johannes Thomas Rüegg)
Self-questioning.
"One of you shall betray me." (Matthew 25, 21)
1. O tell me, Jesus, to my heart –
my troubled heart – the secret tell;
may I from thee and thine depart,
as Judas, when he falsely fell?
Is it not love, – this kindling flame
that warms my breast oft as thy name
falls on my willing ear?
Is it not faith that oft hath brought
my trembling soul the peace it sought,
and stilled each restless fear,
and stilled each restless fear? (PDF - Midi)
2. This quiet joy that hidden flows
deep in my soul, and makes me glad,
though many a rude wind round me blows,
and many a sorrow makes me sad;
can this calm joy that ever lives
be aught but what thy presence gives,
to faithful souls revealed?
The presence and the loving smile
that gladdens all thine own, – the while
from unbelief concealed,
from unbelief concealed?
3. The tears that oft these eyes have wept,
when I before thy feet have knelt,
or watch about thy cross have kept,
and all thy pangs have keenly felt, –
came they not from that holy grief
that brings the broken heart relief,
and softens it to love?
Was not the hope that wakened there
hope that shall triumph o'er despair
and bear the soul above,
and bear the soul above?
4. Speak, thou that knowest well, decide;
if I am thine, O clasp this hand,
and when my feet would stray or slide,
then firmly hold and bid me stand.
Go forth from thee? Give me to bear
the bitter cross, thy thorns to wear;
but let me not depart!
No, Lord, afresh to thee I bring
a free, a cheerful offering,
this trusting, grateful heart,
this trusting, grateful heart.
1863.
Ray Palmer, in: The Poetical Works of Ray Palmer, 1876, 46-47. (Repetition of the last lines added by J.T.R..)