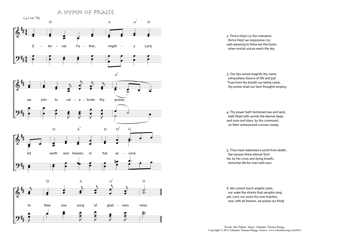 Christ My Song - 663
Eternal Father, mighty Lord - A hymn of praise
(Ray Palmer/Johannes Thomas Rüegg)
A hymn of praise.
"Let everything that hath breath praise the Lord." (Psalm 150,6)
1. Eternal Father, mighty Lord,
we join to celebrate thy praise;
let earth and heaven, in full accord,
to thee one song of gladness raise. (PDF - Midi)
2. Thrice Holy! cry the cherubim;
thrice Holy! we responsive cry;
well-pleasing to thine ear the hymn,
when mortal voices reach the sky.
3. Our lips would magnify thy name,
exhaustless Source of life and joy!
'Twas from thy breath our being came;
thy praise shall our best thoughts employ.
4. Thy power hath fashioned sea and land,
hath filled with worlds the eternal deep;
and suns and stars, by thy command,
on their unmeasured courses sweep.
5. Thou hast redeemed a world from death,
the ransom thine eternal Son!
He, by his cross and dying breath,
immortal life for man hath won.
6. We cannot touch angelic lyres,
nor wake the strains that seraphs sing;
yet, Lord, our souls thy love inspires,
and, with all heaven, we praise our King!
Ray Palmer, in: The Poetical Works of Ray Palmer, 1876, 8-9.