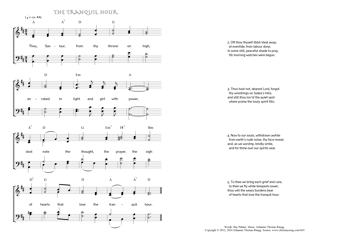 Christ My Song - 665
Thou, Saviour, from thy throne on high - The tranquil hour
(Ray Palmer/Johannes Thomas Rüegg)
The tranquil hour.
"Return unto thy rest, O my soul." (Psalm 116,7)
1. Thou, Saviour, from thy throne on high,
enrobed in light and girt with power,
dost note the thought, the prayer, the sigh
of hearts that love the tranquil hour. (PDF - Midi)
2. Oft thou thyself didst steal away,
at eventide, from labour done,
in some still, peaceful shade to pray,
till morning watches were begun.
3. Thou hast not, dearest Lord, forgot
thy wrestlings on Judea's hills;
and still thou lov'st the quiet spot
where praise the lowly spirit fills.
4. Now to our souls, withdrawn awhile
from earth's rude noise, thy face reveal;
and, as we worship, kindly smile,
and for thine own our spirits seal.
5. To thee we bring each grief and care,
to thee we fly while tempests lower;
thou wilt the weary burdens bear
of hearts that love the tranquil hour.
Ray Palmer, in: The Poetical Works of Ray Palmer, 1876, 54-55.