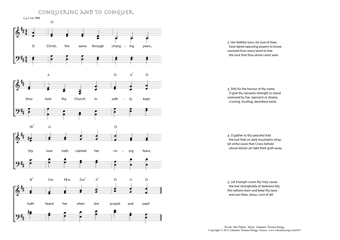 Christ My Song - 667
O Christ, the same through changing years - Conquering and to conquer (Ray Palmer/Johannes Thomas Rüegg)
Conquering and to conquer.
"That at the name of Jesus every knee should bow." (Philippians 2,10)
1. O Christ, the same through changing years,
thou hast thy Church in safety kept;
thy love hath calmed her rising fears,
hath heard her when she prayed and wept. (PDF - Midi)
2. Her faithful sons, for love of thee,
have dared opposing powers to brave;
resolved from every bond to free
the soul that thou alone canst save.
3. Still for the honour of thy name,
O give thy servants strength to stand
unmoved by foe, reproach or shame,
a loving, trusting, dauntless band.
4. O gather to thy peaceful fold
the lost that on dark mountains stray;
let sinful souls that Cross behold
whose blood can take their guilt away.
5. Let triumph crown thy holy cause,
the last strongholds of darkness fall;
the nations learn and keep thy laws,
and own thee, Jesus, Lord of all!
Ray Palmer, in: The Poetical Works of Ray Palmer, 1876, 15.