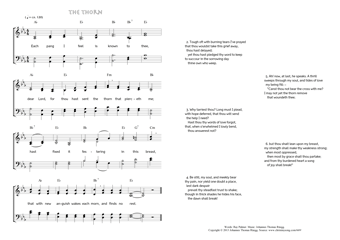 Christ My Song - 669
Each pang I feel is known to thee - The thorn
(Ray Palmer/Johannes Thomas Rüegg)
The thorn.
"I besought the Lord twice, that it might depart from me. And he said unto me, My grace is sufficient for thee." (2 Corinthians 12,8-9)
1. Each pang I feel is known to thee,
dear Lord, for thou hast sent the thorn
that pierceth me;
hast fixed it festering in this breast,
that with new anguish wakes each morn,
and finds no rest. (PDF - Midi)
2. Tough oft with burning tears I've prayed
that thou wouldst take this grief away,
thou hast delayed;
yet thou hast pledged thy word to keep
to succour in the sorrowing day
thine own who weep.
3. Why tarriest thou? Long must I plead,
with hope deferred, that thou wilt send
the help I need?
Hast thou thy words of love forgot,
that, when o'erwhelmed I lowly bend,
thou answerest not?
4. Be still my soul, and meekly bear
thy pain, nor yield one doubt a place,
lest dark despair
prevail thy steadfast trust to shake;
though in thick shades he hides his face,
the dawn shall break!
5. Ah! now, at last, he speaks. A thrill
sweeps through my soul, and tides of love
my being fill: –
"Canst thou not bear the cross with me?
I may not yet the thorn remove
that woundeth thee;
6. but thou shalt lean upon my breast,
my strength shall make thy weakness strong;
when most oppressed,
then most by grace shalt thou partake;
and from thy burdened heart a song
of joy shall break!"
1864.
Ray Palmer, in: The Poetical Works of Ray Palmer, 1876, 43-44.