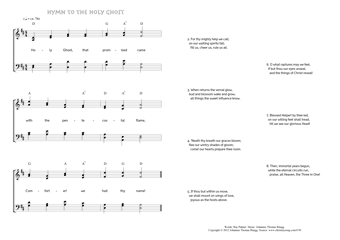 Christ My Song - 670
Holy Ghost, that promised came - Hymn to the Holy Ghost
(Ray Palmer/Johannes Thomas Rüegg)
Hymn to the Holy Ghost.
"The promise of the Father." (Acts 1,4)
1. Holy Ghost, that promised came
with the pentecostal flame,
Comforter! we hail thy name! (PDF - Midi)
2. For thy mighty help we call;
on our waiting spirits fall;
fill us, cheer us, rule us all.
3. When returns the vernal glow,
bud and blossom wake and grow;
all things the sweet influence know.
4. 'Neath thy breath our graces bloom;
flee our wintry shades of gloom;
come! our hearts prepare thee room.
5. If thou but within us move,
we shall mount on wings of love,
joyous as the hosts above.
6. O what raptures may we feel,
if but thou our eyes unseal,
and the things of Christ reveal!
7. Blessed Helper! by thee led,
on our willing feet shall tread,
till we see our glorious Head!
8. Then, immortal years begun,
while the eternal circuits run,
praise, all Heaven, the Three in One!
Ray Palmer, in: The Poetical Works of Ray Palmer, 1876, 36.