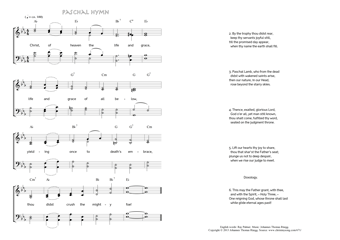 Christ My Song - 671
Christ, of heaven the life and grace - Paschal hymn
(Ray Palmer/Johannes Thomas Rüegg)
Paschal hymn.
"Vita sanctorum, decus angelorum."
This is an ancient hymn of unknown date and authorship, probably written somewhere from the tenth to the thirteenth century, and widely used in public worship.
1. Christ, of heaven the life and grace,
life and grace of all below,
yielding once to death's embrace,
thou didst crush the mighty foe! (PDF - Midi)
2. By the trophy thou didst rear,
keep thy servants joyful still,
till the promised day appear,
when thy name the earth shall fill.
3. Paschal Lamb, who from the dead
didst with wakened saints arise,
then our nature, in our Head,
rose beyond the starry skies.
4. Thence, exalted, glorious Lord,
God o'er all, yet man still known,
thou shalt come, fulfilled thy word,
seated on the judgment throne.
5. Lift our hearts thy joy to share,
thou that shar'st the Father's seat;
plunge us not to deep despair,
when we rise our judge to meet.

Doxology.
6. This may the Father grant, with thee,
and with the Spirit, – Holy Three, –
One reigning God, whose throne shall last
while glide eternal ages past!
Ray Palmer, in: The Poetical Works of Ray Palmer, 1876, 111-112.