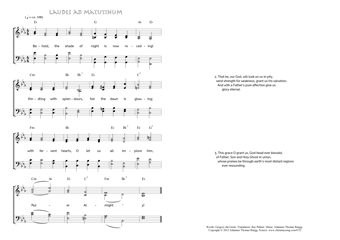 Christ My Song - 672
Behold, the shade of night is now receding! - Laudes ad matutinum (Gregory the Great/Ray Palmer/Johannes Thomas Rüegg)
Laudes ad matutinum.
1. Behold, the shade of night is now receding!
Kindling with splendours, fair the dawn is glowing;
with fervent hearts, O let us all implore him,
Ruler Almighty! (PDF - Midi)
2. That he, our God, will look on us in pity,
send strength for weakness, grant us his salvation.
And with a Father's pure affection give us
glory eternal.
3. This grace O grant us, God-head ever blesséd,
of Father, Son and Holy Ghost in union,
whose praises be through earth's most distant regions
ever resounding.
Ray Palmer, in: The Poetical Works of Ray Palmer, 1876, 112-113.
Translation of "Ecce jam noctis tenuatur umbra" (Gregory the Great).