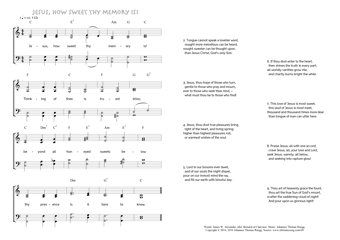 Christ My Song - 69
Jesus, how sweet thy memory is! (Bernard of Clairvaux/
James W. Alexander/Johannes Thomas Rüegg)
Jesus, how sweet thy memory is!
1. Jesus, how sweet thy memory is!
Thinking of thee is truest bliss;
beyond all honeyed sweets below
thy presence is it here to know. PDF - Midi
2. Tongue cannot speak a lovelier word,
nought more melodious can be heard,
nought sweeter can be thought upon,
than Jesus Christ, God's only Son.
3. Jesus, thou hope of those who turn,
gentle to those who pray and mourn,
ever to those who seek thee, kind, –
what must thou be to those who find!
4. Jesus, thou dost true pleasures bring,
light of the heart, and living spring;
higher than highest pleasures roll,
or warmest wishes of the soul.
5. Lord in our bosoms ever dwell,
and of our souls the night dispel,
pour on our inmost mind the ray,
and fill our earth with blissful day.
6. If thou dost enter to the heart,
then shines the truth in every part;
all worldly vanities grow vile,
and charity burns bright the while.
7. This love of Jesus is most sweet,
this laud of Jesus is most meet,
thousand and thousand times more dear
than tongue of man can utter here.
8. Praise Jesus, all with one accord,
crave Jesus, all, your love and Lord,
seek Jesus, warmly, all below,
and seeking into rapture glow!
9. Thou art of heavenly grace the fount,
thou art the true Sun of God's mount,
scatter the saddening cloud of night!
And pour upon us glorious light!
James W. Alexander, after Bernard of Clairvaux (in part),
in: Philip Schaff: Christ in Song, 1870, 321-322.