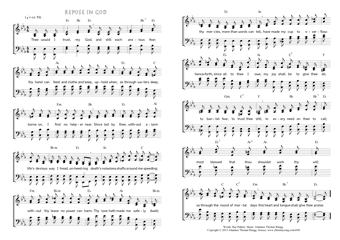 Christ My Song - 698
Thee would I trust, my God - Repose in God
(Ray Palmer/Johannes Thomas Rüegg)
Repose in God.
"The Lord is my strength and my shield; my heart trusteth in him, and I am helped." (Psalm 28,7)
Thee would I trust, my God,
and still each anxious fear;
thy hand can feed and clothe and keep,
uphold when, as through waters deep,
borne on, I find no helper near. (PDF - Midi)
Since led by thee, without alarm
life's devious way I tread, unheeding
death's noiseless shafts around me speeding;
without thy leave no power can harm.
Thy love hath made me safely dwell;
thy mercies, more than words can tell,
have made my cup to overflow:
henceforth, since all to thee I owe,
my joy shall be to give thee all;
to banish fear, to trust thee still,
in every need on thee to call;
most blessed that thou shouldst work thy will:
so through the round of mortal days
this heart and tongue shall give thee praise.
1874.
Ray Palmer, in: The Poetical Works of Ray Palmer, 1876, 91.