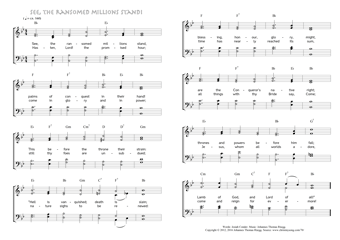 Christ My Song - 70
See, the ransomed millions stand!
(Josiah Conder/Johannes Thomas Rüegg)
See, the ransomed millions stand!
1. See, the ransomed millions stand,
palms of conquest in their hand!
This before the throne their strain:
"Hell is vanquished; death is slain;
blessing, honour, glory, might,
are the Conqueror's native right;
thrones and powers before him fall;
Lamb of God, and Lord of all!" PDF - Midi
2. Hasten, Lord! the promised hour;
come in glory and in power;
still thy foes are unsubdued;
nature sighs to be renewed:
time has nearly reached its sum,
all things with thy Bride say, Come;
Jesus, whom all worlds adore,
come and reign for evermore!
Josiah Conder, in: Philip Schaff: Christ in Song, 1870, 277-278.