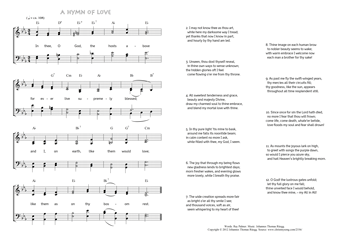 Christ My Song - 723
In thee, O God, the hosts above - A hymn of love
(Ray Palmer/Johannes Thomas Rüegg)
A hymn of love.
1. In thee, O God, the hosts above
for ever live supremely blessed;
and I, on earth, like them would love;
like them as on thy bosom rest. (PDF - Midi)
2. I may not know thee as thou art,
while here my darksome way I tread;
yet thanks that now I know in part,
and hourly by thy hand am led.
3. Unseen, thou dost thyself reveal,
in thine own ways to sense unknown;
the hidden glories oft I feel
come flowing o'er me from thy throne.
4. All sweetest tenderness and grace,
beauty and majesty Divine,
draw my charmed soul to thine embrace,
and blend my mortal love with thine.
5. In thy pure light 'tis mine to bask,
around me falls its noontide beam;
in calm content no more I ask,
while filled with thee, my God, I seem.
6. The joy that through my being flows
new gladness lends to brightest days;
morn fresher wakes, and evening glows
more lovely, while I breath thy praise.
7. The wide creation spreads more fair
as bright o'er all thy smile I see;
and thousand voices, soft as air,
seem whispering to my heart of thee!
8. Thine image on each human brow
to nobler beauty seems to wake;
with warm embrace I welcome now
each man a brother for thy sake!
9. As past me fly the swift-winged years,
thy mercies all their circuits fill;
thy goodness, like the sun, appears
throughout all time resplendent still.
10. Since once for sin the Lord hath died,
no more I fear that thou wilt frown;
come life, come death, whate'er betide,
love floods my soul and fear shall drown!
11. As mounts the joyous lark on high,
to greet with songs the purple dawn,
so would I pierce you azure sky,
and hail Heaven's brightly breaking morn.
12. O God! the lustrous gates unfold;
let thy full glory on me fall;
thine unveiled face I would behold,
and know thee mine, – my All in All!
Ray Palmer, in: The Poetical Works of Ray Palmer, 1876, 338-339.