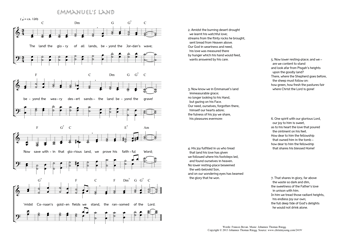 Christ My Song - 806
The land! the glory of all lands - Emmanuel's land
(Frances Bevan/Johannes Thomas Rüegg)
Emmanuel's land.
Deuteronomy 8,7-10.
1. The land! the glory of all lands,
beyond the Jordan's wave;
beyond the weary desert sands –
the land beyond the grave!
Now save within that glorious land,
we prove his faithful Word;
'midst Canaan's golden fields we stand,
the ransomed of the Lord. (PDF - Midi)
2. Amidst the burning desert drought
we learnt his watchful love;
streams from the flinty rocks he brought,
sent bread from Heaven above.
Our God in weariness and need,
his love was measured there
by hunger which his hand would feed,
wants answered by his care.
3. Now know we in Emmanuel's land
immeasurable grace;
no longer looking to his Hand,
but gazing on his Face.
Our need, ourselves, forgotten there,
himself our hearts adore;
the fulness of his joy we share,
his pleasures evermore:
4. His joy fulfilled in us who tread
that land his love has given
we followed where his footsteps led,
and found ourselves in heaven.
No lower resting-place beseemed
the well-belovèd Son,
and on our wondering eyes has beamed
the glory that he won.
5. Now lower resting-place; and we –
are we content to stand
and look afar from Pisgah's heights
upon the goodly land?
There, where the Shepherd goes before,
the sheep must follow on:
how green, how fresh the pastures fair
where Christ the Lord is gone!
6. One spirit with our glorious Lord,
our joy to him is sweet,
as to his heart the love that poured
the ointment on his feet.
How dear to him the fellowship
that owned him in the tomb –
how dear to him the fellowship
that shares his blessed Home!
7. That shares in glory, far above
the waste so dark and dim,
the sweetness of the Father's love
in unison with him.
In him we tread those radiant heights,
his endless joy our own;
the full deep tide of God's delights
he would not drink alone.
P. G.
Frances Bevan, Hymns of Ter Steegen, Suso and others 1, 1899, 89-91.