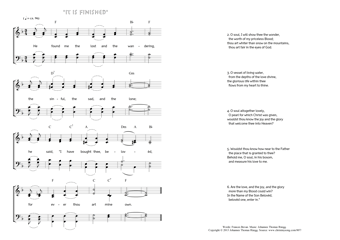 Christ My Song - 807
He found me the lost and the wandering - It is finished
(Frances Bevan/Johannes Thomas Rüegg)
"It is finished."
1 Corinthians 6,11.
1. He found me the lost and the wandering,
the sinful, the sad, and the lone;
he said, "I have bought thee, belovèd,
for ever thou art mine own. (PDF - Midi)
2. O soul, I will show thee the wonder,
the worth of my priceless Blood;
thou art whiter than snow on the mountains,
thou art fair in the eyes of God.
3. O vessel of living water,
from the depths of the love divine,
the glorious life within thee
flows from my heart to thine.
4. O soul altogether lovely,
O pearl for which Christ was given,
wouldst thou know the joy and the glory
that welcome thee into Heaven?
5. Wouldst thou know how near to the Father
the place that is granted to thee?
Behold me, O soul, in his bosom,
and measure his love to me.
6. Are the love, and the joy, and the glory
more than my Blood could win?
In the Name of the Son Belovèd,
belovèd one, enter in."
V. M. C.
Frances Bevan, Hymns of Ter Steegen, Suso and others 1, 1899, 85-86.