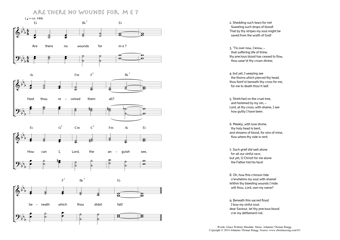 Christ My Song - 81
Are there no wounds for me?
(Grace Webster Hinsdale/Johannes Thomas Rüegg)
Are there no wounds for me?
"Who loved me, and gave himself for me." (Galatians 2,20)
1. Are there no wounds for me?
Hast thou received them all?
How can I, Lord, the anguish see,
beneath which thou didst fall! PDF - Midi
2. Shedding such tears for me!
Sweating such drops of blood!
That by thy stripes my soul might be
saved from the wrath of God!
3. 'Tis over now, I know, –
that suffering life of thine;
thy precious blood has ceased to flow,
thou wear'st thy crown divine;
4. but yet, I weeping see
the thorns which pierced thy head;
thou faint'st beneath thy cross for me,
for me to death thou'rt led!
5. Stretched on the cruel tree,
and fastened by my sin, –
Lord, at thy cross, with shame, I see
how guilty I have been.
6. Meekly, with love divine,
thy holy head is bent,
and streams of blood, for sins of mine,
flow where thy side is rent.
7. Such grief did well atone
for all our sinful race;
but yet, O Christ! for me alone
the Father hid his face!
8. Oh, how this crimson tide
o'erwhelms my soul with shame!
Within thy bleeding wounds I hide:
wilt thou, Lord, own my name?
9. Beneath this sacred flood
I bow my sinful soul:
dear Saviour, let thy precious blood
o'er my defilement roll.
Grace Webster Hinsdale, in: Philip Schaff: Christ in Song, 1870, 175-176.