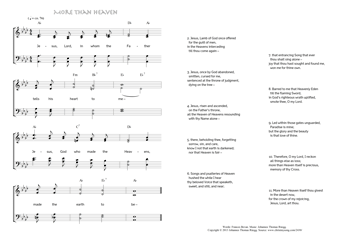 Christ My Song - 817
Jesus, Lord, in whom the Father - More than Heaven
(Frances Bevan/Johannes Thomas Rüegg)
More than Heaven.
"A throne was set in Heaven, and One sat on the throne." (Revelation 4,2)
1. Jesus, Lord, in whom the Father
tells his heart to me –
Jesus, God who made the Heavens,
made the earth to be – (PDF - Midi)
2. Jesus, Lamb of God once offered
for the guilt of men,
in the Heavens interceding
till thou come again –
3. Jesus, once by God abandoned,
smitten, cursed for me,
sentenced at the throne of judgment,
dying on the tree –
4. Jesus, risen and ascended,
on the Father's throne,
all the Heaven of Heavens resounding
with thy Name alone –
5. there, beholding thee, forgetting
sorrow, sin, and care,
know I not that earth is darkened;
nor that Heaven is fair –
6. Songs and psalteries of Heaven
hushed the while I hear
thy beloved Voice that speaketh,
sweet, and still, and near;
7. that entrancing Song that ever
thou shalt sing alone –
joy that thou hast sought and found me,
won me for thine own.
8. Barred to me that Heavenly Eden
till the flaming Sword,
in God's righteous wrath uplifted,
smote thee, O my Lord.
9. Led within those gates unguarded,
Paradise is mine;
but the glory and the beauty
is that love of thine.
10. Therefore, O my Lord, I reckon
all things else as loss;
more than Heaven itself is precious,
memory of thy Cross.
11. More than Heaven itself thou givest
in the desert now,
for the crown of my rejoicing,
Jesus, Lord, art thou.
C. P. C.
Frances Bevan, Hymns of Ter Steegen and others 2, 1899, 105-107.