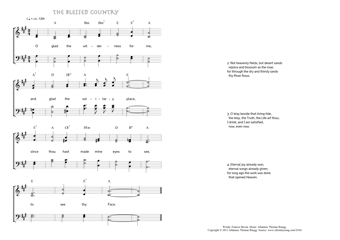 Christ My Song - 823
O glad the wilderness for me - The blessed country
(Frances Bevan/Johannes Thomas Rüegg)
The blessed country.
"The wilderness and the solitary place shall be glad for them; and the desert shall rejoice, and blossom as the rose." (Isaiah 35,1)
1. O glad the wilderness for me,
and glad the solitary place,
since thou hast made mine eyes to see,
to see thy Face. (PDF - Midi)
2. Not heavenly fields, but desert sands
rejoice and blossom as the rose;
for through the dry and thirsty lands
thy River flows.
3. O Way beside that living tide,
the Way, the Truth, the Life art thou;
I drink, and I am satisfied,
now, even now.
4. Eternal joy already won,
eternal songs already given;
for long ago the work was done
that opened Heaven.
C. P. C.
Frances Bevan, Hymns of Ter Steegen and others 2, 1899, 11-12.