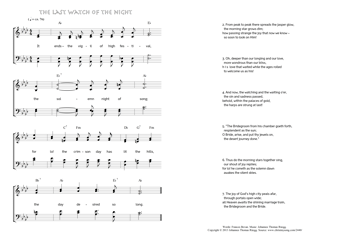 Christ My Song - 827
It ends – the vigil of high festival - The last watch of the night
(Frances Bevan/Johannes Thomas Rüegg)
The last watch of the night.
Revelation 19,7.
1. It ends – the vigil of high festival,
the solemn night of song;
for lo! the crimson day has lit the hills,
the day desired so long. (PDF - Midi)
2. From peak to peak there spreads the jasper glow,
the morning star grows dim;
how passing strange the joy that now we know –
so soon to look on Him!
3. Oh, deeper than our longing and our love,
more wondrous than our bliss,
h i s love that waited while the ages rolled
to welcome us as his!
4. And now, the watching and the waiting o'er,
the sin and sadness passed,
behold, within the palaces of gold,
the harps are strung at last!
5. "The Bridegroom from his chamber goeth forth,
resplendent as the sun;
O Bride, arise, and put thy jewels on,
the desert journey done."
6. Thus do the morning stars together sing,
our shout of joy replies;
for lo! he cometh as the solemn dawn
awakes the silent skies.
7. The joy of God's high city peals afar,
through portals open wide;
all Heaven awaits the shining marriage train,
the Bridegroom and the Bride.
C. P. C.
Frances Bevan, Hymns of Ter Steegen, Suso and others 1, 1899, 154-156.