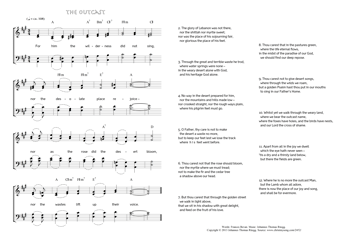 Christ My Song - 839
For him the wilderness did not sing - The Outcast
(Frances Bevan/Johannes Thomas Rüegg)
The Outcast.
Matthew 8,20.
1. For him the wilderness did not sing,
nor the desolate place rejoice –
nor as the rose did the desert bloom,
nor the wastes lift up their voice. (PDF - Midi)
2. The glory of Lebanon was not there,
nor the shittah nor myrtle sweet;
nor was the place of his sojourning fair,
nor glorious the place of his feet.
3. Through the great and terrible waste he trod,
where water springs were none –
in the weary desert alone with God,
and his heritage God alone.
4. No way in the desert prepared for him,
nor the mountains and hills made low –
nor crooked straight, nor the rough ways plain,
where his pilgrim feet must go.
5. O Father, thy care is not to make
the desert a waste no more,
but to keep our feet lest we lose the track
where h i s feet went before.
6. Thou carest not that the rose should bloom,
nor the myrtle where we must tread;
not to make the fir and the cedar tree
a shadow above our head.
7. But thou carest that through the golden street
we walk in light above,
that we sit in his shadow with great delight,
and feed on the fruit of his love.
8. Thou carest that in the pastures green,
where the life eternal flows,
in the midst of the paradise of our God,
we should find our deep repose.
9. Thou carest not to give desert songs,
where through the wilds we roam,
but a golden Psalm hast thou put in our mouths
to sing in our Father's Home.
10. Whilst yet we walk through the weary land,
where we bear the outcast name,
where the foxes have holes, and the birds have nests,
and our Lord the cross of shame.
11. Apart from all in the joy we dwell
which the eye hath never seen –
'tis a dry and a thirsty land below,
but there the fields are green.
12. Where he is no more the outcast Man,
but the Lamb whom all adore,
there is now the place of our joy and song,
and shall be for evermore.
F. M.
Frances Bevan, Hymns of Ter Steegen, Suso and others 1, 1899, 99-101.