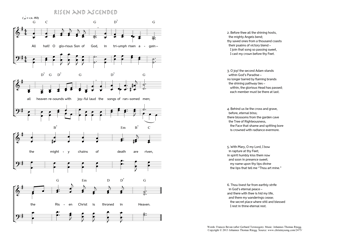 Christ My Song - 862
All hail! O glorious Son of God - Risen and ascended
(Frances Bevan/Johannes Thomas Rüegg)
Risen and ascended.
"While he blessed them, he was parted from them, and carried up into Heaven." (Luke 24,51)
1. All hail! O glorious Son of God,
in triumph risen again –
all heaven resounds with joyful laud
the songs of ransomed men;
the mighty chains of death are riven,
the Risen Christ is throned in Heaven. (PDF - Midi)
2. Before thee all the shining hosts,
the mighty Angels bend;
thy saved ones from a thousand coasts
their psalms of victory blend –
I join that song so passing sweet,
I cast my crown before thy Feet.
3. O joy! the second Adam stands
within God's Paradise –
no longer barred by flaming brands
the shining pathway lies –
within, the glorious Head has passed;
each member must be there at last.
4. Behind us lie the cross and grave,
before, eternal bliss;
there blossoms from the garden cave
the Tree of Righteousness,
the Face that shame and spitting bore
is crowned with radiance evermore.
5. With Mary, O my Lord, I bow
in rapture at thy Feet;
in spirit humbly kiss them now
and soon in presence sweet;
my name upon thy lips divine
the lips that tell me "Thou art mine."
6. Thou livest far from earthly strife
in God's eternal peace –
and there with thee is hid my life,
and there my wanderings cease;
the secret place where still and blessed
I rest in thine eternal rest.
G. Ter Steegen.
Frances Bevan (after Gerhard Tersteegen), Hymns of Ter Steegen and others 2, 1899, 14-15.