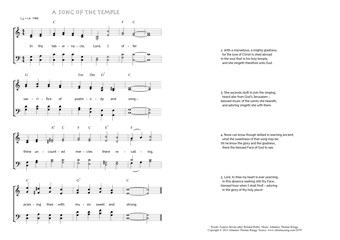 Christ My Song - 866
In thy tabernacle, Lord, I offer - A song of the temple
(Frances Bevan/Johannes Thomas Rüegg)
A song of the temple.
"In his temple doth every one speak of his glory."
(Psalm 29,9)
1. In thy tabernacle, Lord, I offer
sacrifice of psalmody and song –
thine uncounted mercies there recalling,
praising thee with music sweet and strong. (PDF - Midi)
2. With a marvellous, a mighty gladness,
for the love of Christ is shed abroad
in the soul that is his holy temple,
and she singeth therefore unto God.
3. She ascends aloft to join the singing,
heard afar from God's Jerusalem –
blessed music of the saints she heareth,
and adoring singeth she with them.
4. None can know though skilled in learning ancient,
what the sweetness of that song may be;
till he know the glory and the gladness,
there the blessed Face of God to see.
5. Lord, to thee my heart is ever yearning,
in this absence seeking still thy Face;
blessed hour when I shall find! – adoring
in the glory of thy holy place!
R. Rolle, † 1349.
(3,2: Nehemiah 12,43.)
Frances Bevan (after Richard Rolle) , Hymns of Ter Steegen and others 2, 1899, 119-120.