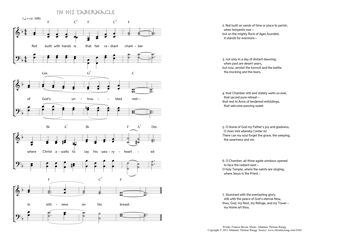 Christ My Song - 869
Not built with hands is that fair radiant chamber - In his tabernacle (Frances Bevan/Johannes Thomas Rüegg)
In his tabernacle.
"One thing have I desired of the Lord, that will I seek after; that I may dwell in the house of the Lord all the days of my life, to behold the beauty of the Lord." (Psalm 27,4)
1. Not built with hands is that fair radiant chamber
of God's untroubled rest –
where Christ awaits to lay his weary-hearted
in stillness on his breast. (PDF - Midi)
2. Not built on sands of time or place to perish,
when tempests roar –
but on the mighty Rock of Ages founded,
it stands for evermore –
3. not only in a day of distant dawning,
when past are desert years,
but now, amidst the turmoil and the battle,
the mocking and the tears,
4. that Chamber still and stately waits us ever,
that sacred pure retreat –
that rest in Arms of tenderest enfoldings,
that welcome passing sweet.
5. O Home of God my Father's joy and gladness,
O riven Veil whereby I enter in!
There can my soul forget the grave, the weeping,
the weariness and sin.
6. O Chamber, all thine agate windows opened
to face the radiant east –
O holy Temple, where the saints are singing,
where Jesus is the Priest –
7. illumined with the everlasting glory,
still with the peace of God's eternal Now,
thou, God, my Rest, my Refuge, and my Tower –
my Home art thou.
T. S. M.
Frances Bevan, Hymns of Ter Steegen and others 2, 1899, 1-2.