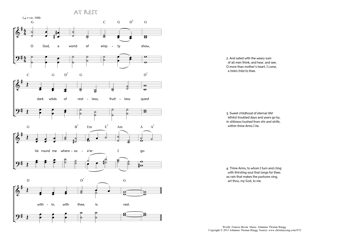 Christ My Song - 872
O God, a world of empty show - At rest
(Frances Bevan/Johannes Thomas Rüegg)
At rest.
Isaiah 40,11.
1. O God, a world of empty show,
dark wilds of restless, fruitless quest
lie round me wheresoe'er I go:
within, with thee, is rest. (PDF - Midi)
2. And sated with the weary sum
of all men think, and hear, and see,
O more than mother's heart, I come,
a tirèd child to thee.
3. Sweet childhood of eternal life!
Whilst troubled days and years go by,
in stillness hushed from stir and strife,
within thine Arms I lie.
4. Thine Arms, to whom I turn and cling
with thirsting soul that longs for thee;
as rain that makes the pastures sing,
art thou, my God, to me.
G. T. S.
Frances Bevan, Hymns of Ter Steegen, Suso and others 1, 1899, 10-11.