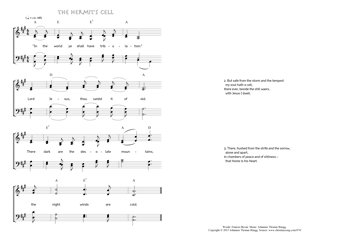 Christ My Song - 874
In the world ye shall have tribulation - The hermit's cell
(Frances Bevan/Johannes Thomas Rüegg)
The hermit's cell.
(1 John 4,16)
1. "In the world ye shall have tribulation:"
Lord Jesus, thou saidst it of old.
There dark are the desolate mountains,
the night winds are cold. (PDF - Midi)
2. But safe from the storm and the tempest
my soul hath a cell;
there ever, beside the still waers,
with Jesus I dwell.
3. There, hushed from the strife and the sorrow,
alone and apart,
in chambers of peace and of stillness –
that Home is his Heart.
G. T. S.
Frances Bevan, Hymns of Ter Steegen, Suso and others 1, 1899, 8-9.