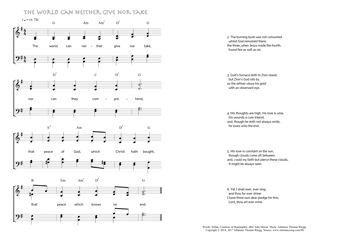 Christ My Song - 88
The world can neither give nor take
(John Mason/Selina, Countess of Huntingdon/
Johannes Thomas Rüegg)
The world can neither give nor take.
1. The world can neither give nor take,
nor can they comprehend,
that peace of God, which Christ hath bought,
that peace which knows no end. PDF - Midi
2. The burning bush was not consumed
whilst God remainèd there;
the three, when Jesus made the fourth,
found fire as soft as air.
3. God's furnace doth in Zion stand;
but Zion's God sits by,
as the refiner views his gold
with an observant eye.
4. His thoughts are high, his love is wise,
his wounds a cure intend;
and, though he doth not always smile,
he loves unto the end.
5. His love is constant as the sun,
though clouds come oft between;
and, could my faith but pierce these clouds,
it might be always seen.
6. Yet I shall ever, ever sing,
and thou for ever shine:
I have thine own dear pledge for this;
Lord, thou art ever mine.
Selina, Countess of Huntingdon, after John Mason in: Schaff, Philip: Christ in Song, 1870, 393.